Magical experiences for children who need them most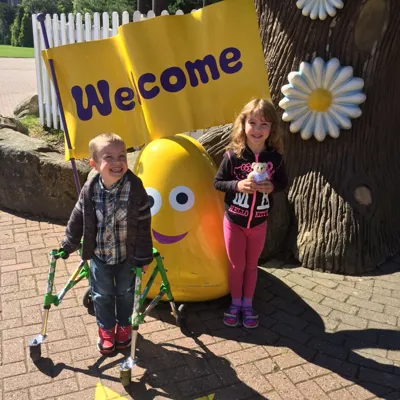 Welcome to our site
Hi, welcome! We're glad you found us. We're Merlin's Magic Wand, an international children's charity dedicated to creating magical experiences for children who need them most. We do this in partnership with every Merlin Entertainments attraction on the planet (how exciting!), through our three magical programmes:
Magical Days Out
Magic On Tour
Magic Spaces
On this site, you can learn more about us and the work that we do. You can find out how you can support our work, with fundraisers or awareness raisers; and you can apply for one of our programmes!
Phew! This is going to be fun. Want to get somewhere quickly? Use our buttons below to get to where you need to go.
Support Our Work
Want to be a part of something amazing? You've come to the right place. We're on a mission to deliver three million magical experiences for eligible children and their families by 2025, and to do that we need to raise some awareness about our charity and our programmes.
Getting involved is easy and supporting our campaigns can be as simple as following us online. @merlinsmagicwandofficial 
But that's not all. You can support Merlin's Magic Wand by getting involved in our fundraising and awareness-raising campaigns. You can download our campaign calendar right here on our website and download our fundraising pack for 2023!
Our Partnership With Merlin Entertainments
Merlin's Magic Wand is the children's charity partner of the Merlin Entertainments Limited Group ("Merlin Entertainments"). We work closely with Merlin Entertainments' attractions to deliver the magic of amazing brands such as LEGOLAND®, Madame Tussauds and SEA LIFE Aquariums to eligible beneficiaries.
Merlin Entertainments donates 100% of the Magical Days Out tickets to Merlin's Magic Wand so that we can share the magic of the attractions with eligible families and other charitable organisations all over the world. Merlin Entertainments also makes an annual donation towards our operating costs, which means that more of your donations go straight to our charitable programmes.
"Lily loved watching the penguin feed and having the opportunity to explore areas of interest at her own pace, in her own time, and in her own way. We just wanted to express our profound gratitude for your role in making these magical memories for our family".
Laura Dietz, mum of Lily who visited the SEA LIFE London Aquarium