About Merlin's Magic Wand
Merlin's Magic Wand is an independent non-profit organization. However, we get to do what we do because we are the official charity partner of Merlin Entertainments in the United States.  We work globally across all Merlin attractions to collaborate on our three magical programs: Magical Days Out, Magic on Tour, and Merlin's Magic Spaces.
Magical Days Out
Our best-known program that supports children making wishes for Merlin attractions such as LEGOLAND®, Madame Tussauds and SEA LIFE Aquariums – it's called Magical Days Out.
We offer a single gifted day out for children to visit the local Merlin attraction of their choice. 
Magical Days Out are not just for terminally ill children, but for lots of children who are facing challenging circumstances. They can be applied for by parents, guardians or organizations and allow families to visit their chosen Merlin attraction for free.  
You can learn more about our Magical Days Out program, check your child's eligibility and apply for a day out today on our site. 
Apply Now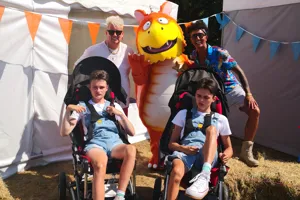 Magic On Tour
We can also bring magical experiences to children who meet our eligibility criteria but can't get to a Merlin attraction in person!  As our magical footprint grew, we realized that there was a need to deliver a community outreach initiative – and Magic On Tour was born!
Magic On Tour is a program where we pack up some of the Merlin magic and take it into the community, delivering it to schools, hospitals, hospices, and community centers. We work with local Merlin attractions to create special activities and fun visits for children to enjoy, and underwrite the cost with a Magic On Tour grant.
Interested in bringing the magic of Merlin to your organization or want to learn more? We have lots of Merlin colleagues ready to deliver Magic On Tour in person or virtually, so click below to get in touch!
Magic on Tour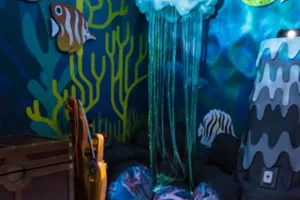 Merlin's Magic Spaces
In places where children spend a lot of time, such as hospitals, treatment centers, special educational needs schools and hospices, we offer Merlin's Magic Spaces. We work with Merlin Magic Makers (yep, that's a real job) to design and create attraction-themed areas inspired by some of the world's favorite attraction brands.
These magical projects cost an average of $50,000 each, which is where much of our fundraising from Merlin Entertainments employees, suppliers and guests goes! Merlin's Magic Wand supporters like you can use our fundraising ideas and campaigns to be a part of the magic of reinventing bathrooms, play areas, gardens, waiting rooms and sensory spaces.
Want to learn more about Merlin's Magic Spaces, or have a spot in mind for our next project?  Click below and let us know!
Learn More
"Over 800 other charities and organizations have been able to offer our Magical Days Out program to their own beneficiaries! And for those who aren't able to easily visit our attractions, we are increasingly bringing the magic of the attractions to local hospices, schools and orphanages through our Magic Spaces and Magic On Tour programs. There's something for everyone!''
Elin Parry - Merlin's Magic Wand Magical Programs Manager
Want To Donate Now?
You can be a part of the magic by donating to or fundraising for our programs right now. We make every penny count!